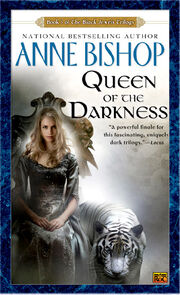 | | |
| --- | --- |
| Author: | |
| Series: | |
| Publisher: | Roc |
| Date published: | January 2000 |
| Preceded by: | |

The third book in the Black Jewels Trilogy.
Cover Copy
Edit
Jaenelle Angelline has made her Offering to the Darkness, and reigns as Queen of Ebon Askavi. The Shadow Realm lies under her protection. No longer will the corrupt Blood slaughter her people and defile her lands. But where one door has been closed, another may be opened…or broken through, and Jaenelle must unleash the terrible glory that is Witch to destroy her enemies once and for all.
Even so, she cannot stand alone. Somewhere, long lost in the madness of the Twisted Kingdom, is Daemon, her promised Consort. His unyielding love for Jaenelle will complete her Court and secure her power. Yet, even together, their strength may not be enough to stave off their enemies.
In the end, only Jaenelle's greatest sacrifice will be enough to save those she loves…