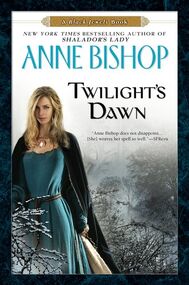 | | |
| --- | --- |
| Author: | |
| Series: | |
| Publisher: | Roc |
| Date published: | March 2011 |

Twilight's Dawn is the most recent installment in Anne Bishop's Realms of the Blood series. The book is split into four specific stories.
1. Winsol Gifts- Daemon, the Black Jeweled Warlord Prince of Dhemlan, is settling into his first year of married life with his Witch Queen Jaenelle. But as the thirteen-day celebration of Winsol draws near, Daemon finds himself being pulled in too many directions as he plays host to his formidable family…
2. Shades of Honor- Still recovering from the ordeal that left her wounded and angry, Surreal returns to Ebon Rih on the orders of Prince Lucivar. And when her former lover Falonar ruthlessly challenges the rule of her family, Surreal may finally succumb to the darkness burning inside her…
3. Family- When someone lays a vicious trap for Queen Sylvia and her sons, the fallout completely disrupts the lives of the ruling family of Dhemlan. Now, they have to uncover the identity of the warlord known only as No Face, before he returns to finish what he started…
4. The High Lord's Daughter- After losing the two most important people in his life, Daemon has assumed his father Saetan's role as High Lord of Hell and built a wall around his heart. But when he inadvertently forges a new connection, will it be enough to break him free from his loveless life?